All electric equipments & systems is required Impulse Simulation Test to the to be tested under the condition where the power source is applied to the product-under-test.
At this test condition, the decoupler is needed to reduce the impulse flowing through the power line while testing.
And the coupler which is inserted between tester and product, to simulate the actual condition, so the electric circuit of decoupler is prescribet by IEC rules.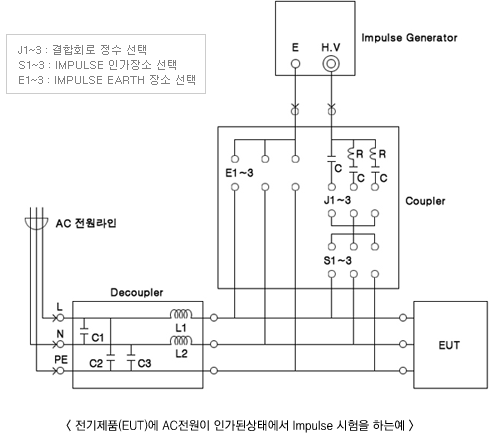 In accordance with this ficture, the Plug-In method is used to select the suitable conditions that fits to the requirement.
Model : KT-7030-C
This photo shows an example of simple one where the coupler and decoupler is installed in a same case and used the Plug-In selectable method.
But in other case of 3 phase type, or because of the huge current & high volatage type, we can imagine it shall be rather larger than this one on the photo.